Oval Partnership reaches out to communities to help bring a community's diverse interests together and transform and preserve its surroundings. It is important to us to design and tell compelling stories of communities and give the citizenry new ways of engaging with the urban dynamic and environment. We believe the principles of creative place-making would highlight not only its distinctive local culture but promote a vibrant community.
One of the rising hidden gems in Southeast Asia, Shimo-kitazawa, has undergone a series of makeovers over the years, adjacent to its open spaces as well as bringing communities together.
Shimo-kitazawa is the new hidden gem of the widely-loved Tokyo. The bohemian and eclectic neighbourhood offers a unique glimpse of both the history and culture of Toyko, capturing the hearts of many Japanese young people, students and now even tourists. The rising community is famous for its narrow criss-crossing alleyways, vintage thrift stores and cafes, live indie bands, low rise buildings and theatres that each have their unique features.
The Shimo-kitazawa area is located in the Setagaya ward in Western Toyko. It is a place where cultural diversity and urban identity converge, creating an environment that many people enjoy. This melting pot of cultures is now an important part of Tokyo's urban society. Cultural diversity has also had a large impact on how people identify themselves and what they engage in within their communities today.
Today Shimo-kitazawa has gone through some major makeovers and is now one of Tokyo's most vibrant neighbourhoods with many international residents who want to escape from busy city life but still be close enough to enjoy all that Tokyo has to offer. Thanks to a new five-storey restaurant and shopping mall underneath the Shimo-kitazawa train station, and also some new recent developments such as Bonus Track, Nansei Plus, the mixing pot community has become the new hotspot.
The area has been a staple in Tokyo for decades but recently has been experiencing an upswing in popularity.
It is clear that Tokyo's urban identity is changing, but it is not yet clear what this change is and will mean for the future of Japan as a whole. The cultural mosaic of Shimo-kitazawa provides a microcosm of these changes and complexities.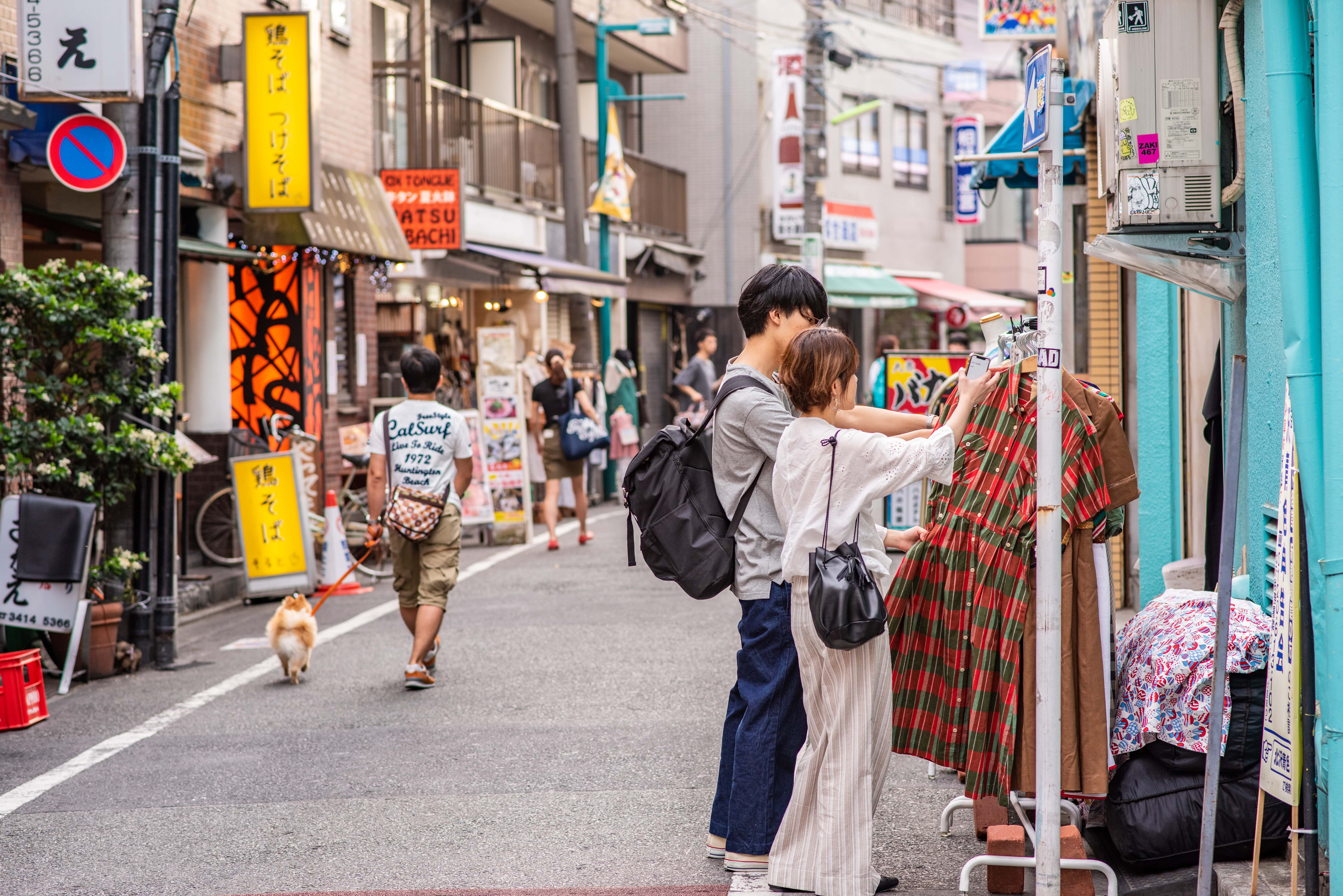 Roaming around the narrow alleyway and you will find yourself in a jaunt of the inspiring culture and history community. The area is renowned for its thrift shopping, also known as "shimokita-style", featuring the reuse and recycling of clothing to antiques. Originating in the bustling second-hand market that used to exist after World War II in the 1970s, the area then was eagerly absorbed into the subculture and continually seeks to protect and preserve this unique culture. By means of the historical culture, the streets in the neighbourhood are lined with a diverse range of second-hand stores and antique stores.
This is a place that has grown from the ground up and it is a place where you can go to see all different types of people, art and music.
Shimo-kitazawa also offers a spec of greenery in the community, the bamboo thicket Roka Koshun-en Garden and Soshigaya Park give people the escape they need from the city.
Recent development and planning in Shimo-kitazawa have drawn community eyeballs with the five-storey complex, Mikan Shimokita, which opened outside the Shimokitazawa train station in March last year. It was a combination of shopping, dining restaurants and even co-working space. Offering a new hot spot for people to gather and enjoy the atmosphere, the open space creates an inviting atmosphere that caters to the public with engaging surroundings. It marked a milestone for the Shimokitazawa community to vitalize the neighbourhood by preserving its culture and fusing it with modern ideas.
It is a melting pot of different cultures and experiences that helps people feel at home in their community. This place is one where you can go to see all different types of people, art and music; it's an amazing place for anyone who wants to explore old Tokyo and see it from a different perspective.
Our favourite project– Viva Blue House, one of Hong Kong's most historical landmarks, a project that seeks to bring communities together whilst preserving its historical uniqueness. Check out more at Viva Blue House