There are no simple answers and every context presents different challenges and possibilities, which may be smaller in gesture yet often more meaningful in closely conforming to the parameters of rewilding. Director of The Oval Partnership Jonathan Pile has a clear interpretation of where the boundaries lie. "As I understand it, Rewilding has — to some degree – to be about trying to repair or recreate natural processes and natural networks." Part of that matrix is underground, within the soil system. "If you're putting densely planted trees and native plants and shrubs into what is essentially a concrete pit, that's not really Rewilding because you're not allowing for there to be any kind of natural process in terms of the soil systems below."
In a densely built city centre where every centimetre of ground is dug out and filled with concrete, this creates a barrier which prevents the natural "infrastructure" of plants and organisms doing their essential thing: replenishing the soil, nourishing flora and fauna, feeding trees, which then transpire, capture carbon … In other words, a vital cog in the natural wheel of our eco-system is missing.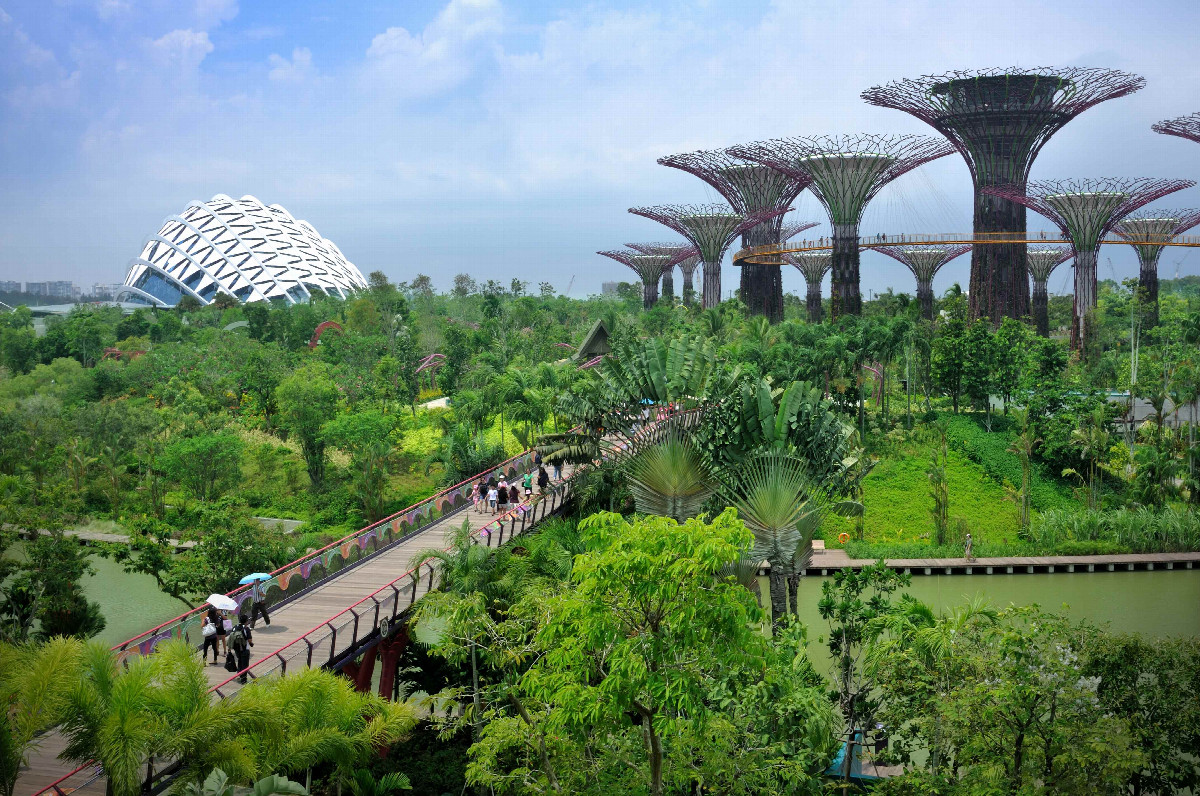 The Singapore government has a biodiversity strategy and action plan (2009, updated 2019) that acknowledges the need for a holistic approach. What began in the 1960s as a mass tree-planting exercise, has become a comprehensive strategy that is not only about green spaces in the city, but "is further enhanced by integrating natural ecosystems into parks, clustering parks with complementary ecosystems and activities, and connecting them in an island-wide network of green links." Singapore also lays claim to its own biophilic hybrids — albeit vertically, understandable given the constraints on land supply. Eden, brainchild of developer Swire Properties and their inventive architect Thomas Heatherwick, is a recent example — luxury urban living within a veil of lush tropical greenery that has won plaudits from sustainable construction bodies and wowed its 20 new inhabitants. The Singapore practice WOHA has been treading a biophilic path since its inception in 1994. Glancing through their portfolio — whether mixed-use, residential, or masterplanning — is a lesson in nature-based architecture. Greenness forms an integrated part of the infrastructure at their Park Royal hotel and office development that links into the neighbouring Hong Lim Park. And at Kampung Admiralty, a permeable layering of public amenities and accommodation designed for 'active aging' is tied together through networks of intense greening.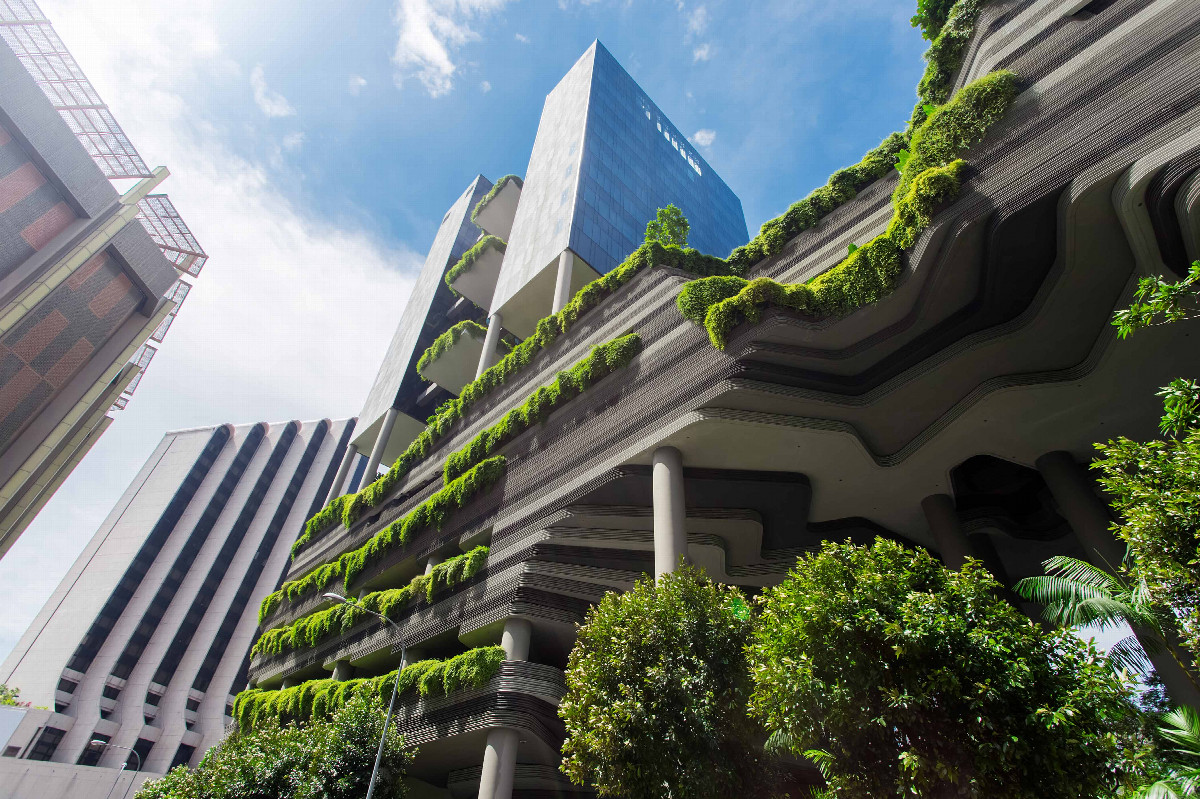 Singapore has, by all accounts, set out clear national targets — not just a wishlist — and made a commitment to monitor progress in its bid to conserve biodiversity. A critical aspect of Rewilding is the independent verification of its impact in conserving and enhancing the habitats that such schemes are reportedly protecting. Therefore underpinning any ambitions to re-wild is the requirement to map, measure, assess, and evaluate effectiveness.
From an Asian perspective, it might surprise some to imagine that shopping districts in many of the UK's city centres are failing, however in one city, Nottingham, a very radical regenerative idea is currently being proposed to replace the largely, empty and neglected 1970s Broadmarsh shopping centre, and one that is billed by its protagonists as rewilding the heart of the city. The scheme, which has been envisioned by Nottinghamshire Wildlife Trust, is first and foremost about restoring greenness, not in the form of city parks or open recreation spaces, but a comprehensive infrastructure of ponds, wetlands, fruit orchards, crocus meadows that weaves into other parts of the city and up to the famous Sherwood Forest to the north of the city.
Scientists debate over how long it takes to create an inch of topsoil through the cycle of natural processes by organisms that break down vegetal matter – some say 100 years, others reckon 500 to 1000 years. Like elsewhere in the world where there has been intensive land cultivation and resulting tree loss, what China is facing and recognising is that city building has come at the cost of erosion and loss of soil, disruption of natural processes and obstruction of river networks and watersheds. "When you build a new settlement you have to take into account that you are disturbing the natural topography and the natural networks of soil and running water and so on," Jonathan explains. In the master-planning process there is an inevitable need for parks and ponds, not for the sake of including token greenness, but in order to create catchment areas to collect the rainwater that runs off all the hard surfaces of buildings and concrete, which are not absorbent.
Unlike Nottingham, The Oval partnership's competition winning proposal for Shenzhen Bay Cultural Plaza does not involve bulldozing the city centre and returning it to the wild. However, it does hammer home some of the challenges the practice faces as to how far they can push to recreate lost networks of plant and animal habitat while cultivating much of what The Oval Partnership does best — activating the urban realm through a matrix of culture and nature. "I think the metaphor between natural biodiversity and cultural diversity is a really powerful one," enthuses Jonathan. "When we look at, say, an ancient woodland, we see tall trees but we also see tiny forest floor flowers that might only bloom for a few weeks before the trees come into leaf. So there are hundreds, thousands of species that are all interrelated. They all have very specific relationships with each other and that is how a real city works. And that is how culture works. And that is the driver for this project."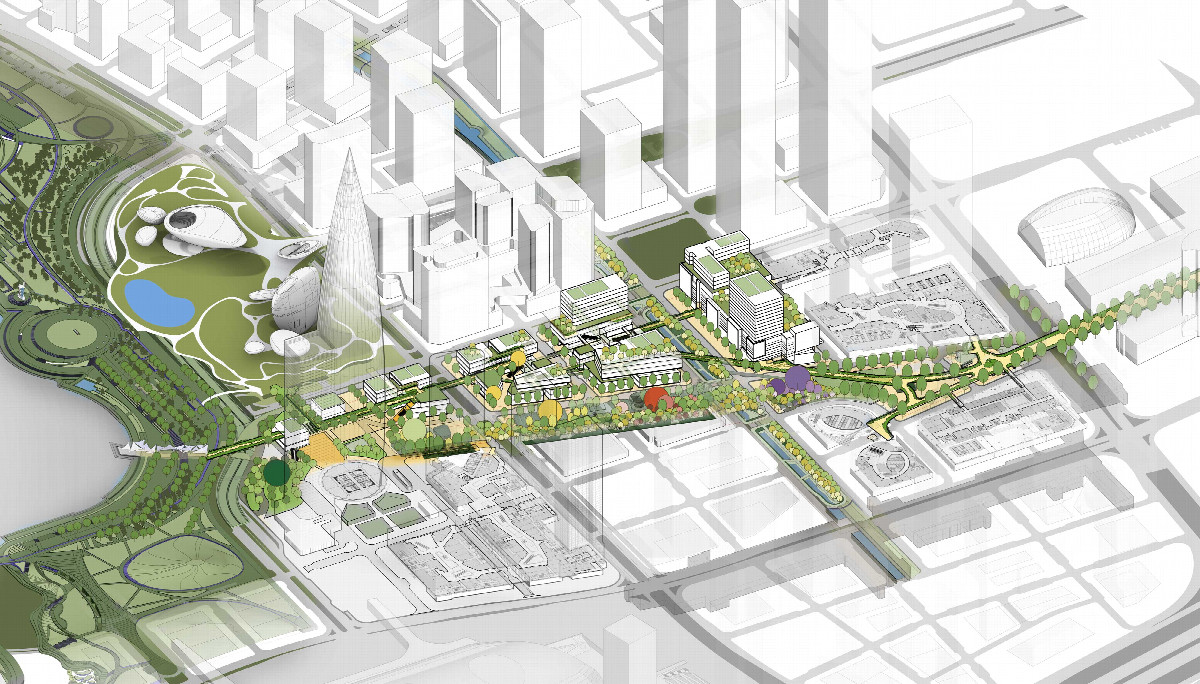 The Shenzhen Bay Cultural Plaza scheme, dubbed a Green Valley, is a low-rise intervention within the spaces between a fragmented patchwork of existing tall buildings. To call it a pedestrian infrastructure would fail miserably to do it justice. Jonathan describes it as a web of pedestrian interconnections interwoven with large and small cultural venues, interspersed with retail and hospitality. "It's an intense multi-level highly activated public space, not simply a park but a matrix of public realms, with threads of green woven through it and threads of culture woven through it." This connective tissue between buildings is deftly plugged into metro stations and walkways that find their way into building lobbies.
It sounds human-centred, but the solutions are driven by green principles. "The practical advantages of this kind of intense greening are numerous," says Jonathan, though he insists this is not about countering biodiversity loss to any meaningful degree, but more about reconnecting our urban lives with our natural roots. "It can achieve several degrees lowering of ambient temperatures. It takes the load off the drainage system. It improves the acoustics. But the advantages for health and well-being are also incredibly important purely from a psychological point of view. The constant reminder of where we all come from and the fact that we are all, you know, natural. The changing seasons. The encouragement of birds, and butterflies into the project. "This does not amount to rewilding but by bringing nature more intimately connected with the human experience there are grounds for hoping that the penny will eventually drop.