Qujiang Creative Cultural Centre is a state of the art multi-functional theatre that will host a diverse palette of cultural performances, concerts, educational events and exhibitions. It is where social interactions, community engagements, cultural inclusion, local creativity and the collective identity of people in Xi'an can be nurtured and celebrated.
This subterranean gem feels like a found space in the heart of the new urban fabric. Sited in ancient imperial capital Xi'an, China's eastern departure point for the Silk Road, the Cultural Centre will form part of the an integrated masterplan designed by the Oval Partnership. The venue—hailed as Xi'an's first-of-its-kind creative cultural park—will be rooted in the communities it is surrounded by, putting people at the heart of its foundation and forming one of the city's key civic backbones feeding into a vibrant mix of uses. The architect's vision is to create a legible connection between multi-cultural activities within the heart of a new urban district, providing a sustainable framework to inspire the new generation of innovative and creative pioneers converging around Xi'an.
The design responds to the local context, introducing elements and materials that evoke a modern re-interpretation of Chinese architectural repertoires and traditions that characterise the Xi'an region. This design vocabulary is seamlessly embodied throughout all spaces, from the city scale down to the smallest of human scales.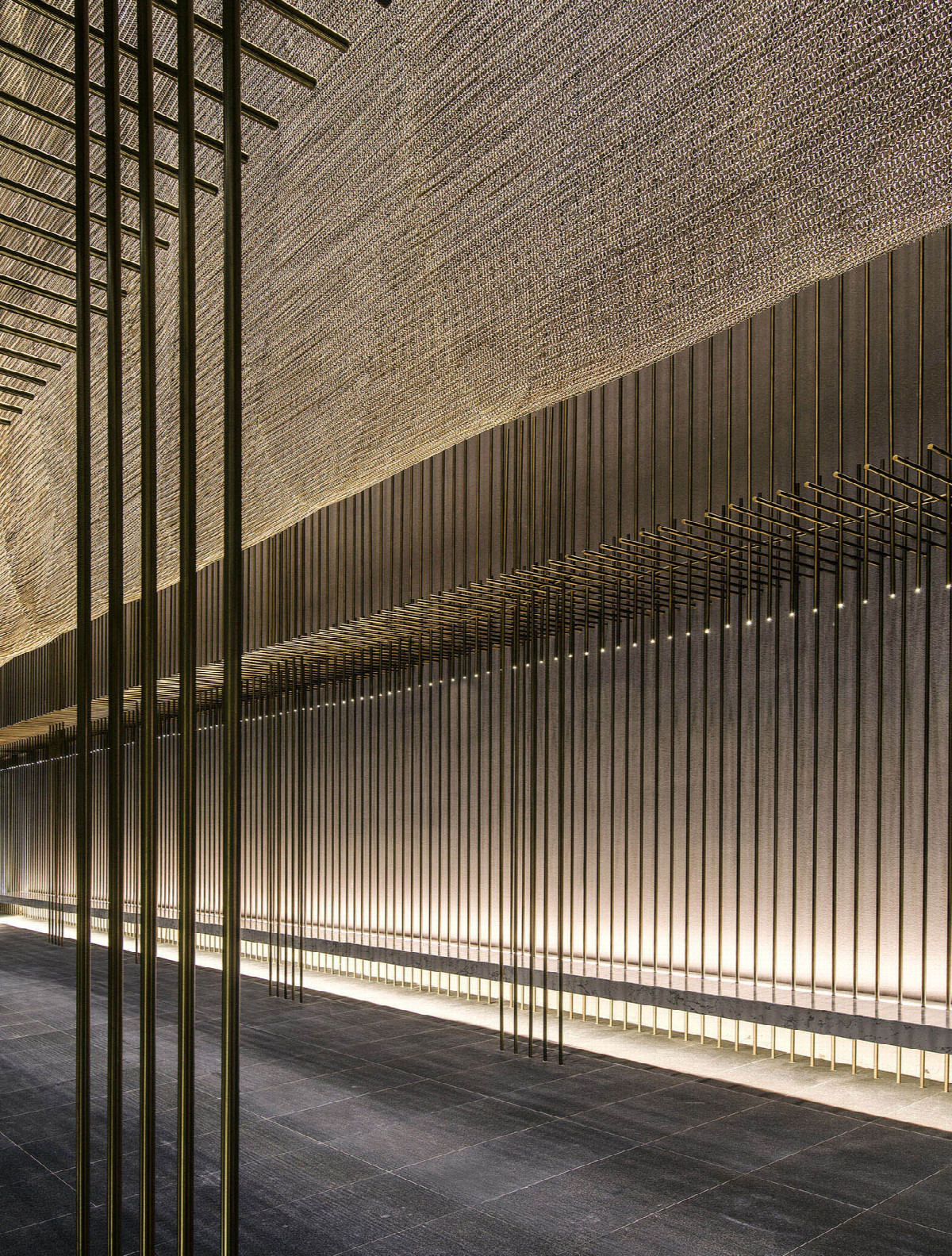 The site is located beneath the central plaza of Qujiang Creative Circle as a key component of the integrated masterplan. A sympathetically placed pavilion rises above ground and serves as the primary entrance to the Cultural Centre, standing prominently as a civic meeting point within the 500sq m public realm. The subterranean building comprises a retractable 400 seat multi-functional theatre, a performance and rehearsal room, a multi-purpose gallery, exhibition spaces, workshops, a café and bar together with supporting office and subservient spaces.
The venue experimented with the notion of poetic exuberance, exchanging spatial dialogues between permanence and ephemerality, hard and soft, light and dark, compression and contraction. The elevated vestibule forms the primary public threshold to the main theatre and the performance space. It also serves as a multi-functional space for creative events and exhibitions. Inspired by the traditional Chinese 'Lián Láng' — a connecting structure between buildings — a modern interpretation has been composed in a spatial arrangement of 8000 pieces of finely crafted bronze metal flutes, finely honed and detailed using local craftsmanship. These sculptural flutes are suspended from the ceiling; cantilevered from the walls; and rise from the floor. In the centre of the space, a 13m long metallic draping veil provides a contrasting softness and juxtaposes the verticality of the flutes. Together they create an emotionally uplifting spectacle and a sense of 'Weightless Suspension'.