China's commercial retail development sector is entering a new era. The pandemic has actively curtailed both new shopping developments and those already underway across China's 30 major cities. The legacy of the greatest retail development surge in the country's history throughout 1990s is a built-environment that has little to attract or cater to today's consumers.
Strategic Repositioning
Beyond 2020, with current market conditions, development planning is forecast to further tail off as opportunities to develop large projects — especially within the pivotal tier 1 and 2 cities — diminish, the over- supply risk grows, and social-distancing measures erode the appeal of physical retail.

Physical retail must evolve in response, and Oval have a proven toolkit in use that adds enormous value for clients and developers by charting the direction for a re-imagined retail toward immersive shopping experiences.

Many under-utilised purpose-built malls in Tier 1 cities are ideally placed to be strategically repositioned, enabling developers to significantly rein in expenditure while luring in a new generation of savvy shoppers. The challenge is to surface the site-specific trends that ought to inform a smart repositioning strategy to ensure success.
The Adoption Advantage
'In China, there are more than 20 apps with 150+ million users. Of the 20 top apps by time spent, 13 are owned by Baidu, Alibaba or Tencent (BAT)... China's adoption advantage allows it to leap-frog the US in Smart Cities.' — Alphabet's Eric Schmidt, 2019 NSC AI Presentation.
This accelerating trend of proliferating internet-connected mobile devices generating huge data streams is the window of opportunity through which we actively deploy a toolkit to spot emerging urban patterns and trends and so unlock a uniquely colossal addressable user-base and market.


On the one hand, Chinese demand for luxury goods is projected to grow as much as 30% this year as high- income mainland shoppers lead the country's post-pandemic economic rebound. Yet recovery looks to be uneven in China, with lower-income consumers pulling back from spending.
In these uncertain times, many development investors are reluctant to commit to the capital expenditure involved to remodel the traditional mid-market mall layout. Deferring spend can work against investor demands, as there is a need to rethink real estate and the sharing economy given sustained safe distancing measures. Today's customers do not want hermetically sealed shopping centres. In the past, maximised GFA and NLA has met with maximised returns. Those days are over.

The pandemic is a catalyst for much-needed digital transformation of retail development. There are many outmoded retail buildings that have lost their sparkle and passed their sell-by date. We recognise that across China's major cities, some locations are intrinsically desirable, and will remain so, because of good accessibility and proximity to features of value such as heritage areas.
With recovery in Asia Pacific outpacing other regions, it is timely to ride on trends that the pandemic will likely accelerate, as such many assets are now prime candidates for concept and narrative repositioning. At Oval we are helping our clients evaluate an asset's potential and reimagine what the development could offer in this new era. Vitally, we enhance the level of innovation and creative calibre of the development team.
The physical enhancement of assets we see as just part of a holistic strategy that also requires a renewed focus on current and prospective tenants. The sector is seeing significant growth in the more established cities across China, particularly prevalent in Tier 1 and 2 cities where space is scarce and competition is high.
With developments repositioned to offer a more lifestyle-focused and finessed customer experience, quantifiable modelling is vital to pinpoint the latest expectations of intended users and therefore assure success. The existing layout needs to be analysed and then reimagined, and going beyond restructuring areas as underutilised. What is required is no less than breaking up the 'monoculture' of mall design to create differentiated environments that appeal to other types of tenant adaptability of physical spaces. Only this way will enhanced experienced be offered that maximise potential profits.
Location Intelligence through Urban Big Data Analytics
One of the key toolsets we are using in China is what The Oval Partnership term 'Digital Placemaking.' This encompasses our data-driven processes harnessing people and movement data, analytics and the networks of place. Leveraging key visitor data from multiple sources in order to identify demographics, demand, trends, brand reach, and foot traffic internally and externally around a location.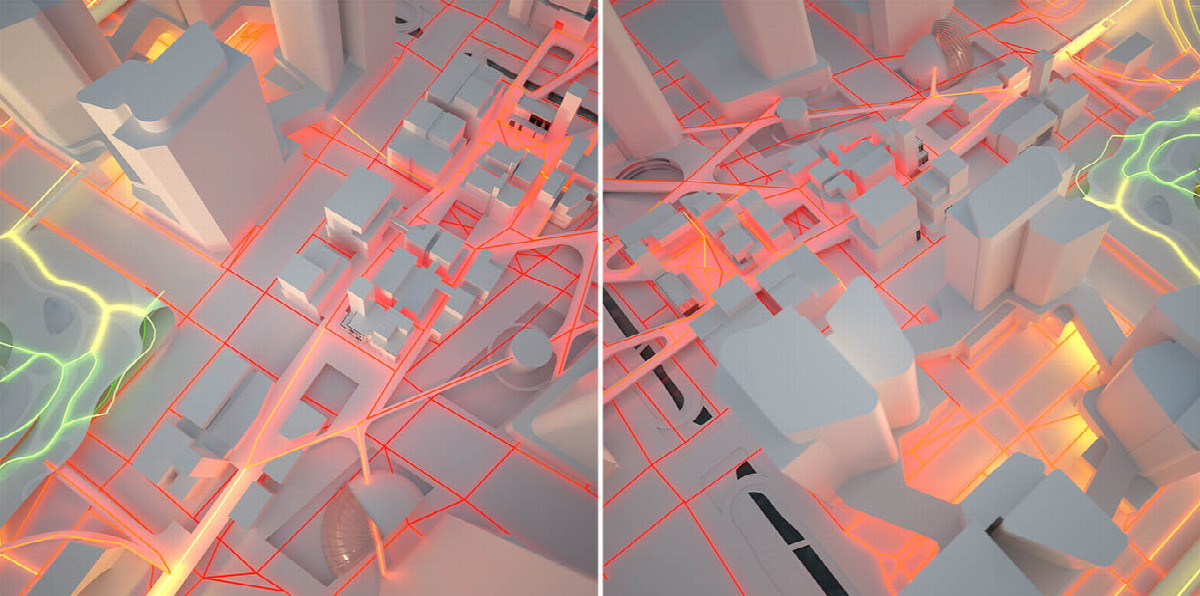 People-centric urban analytics, modelling, and forecasting reveal the trajectory of a rapidly changing market. We combine big data with other key metrics in an evidence-based assessment. This harnesses the power of networks that underpin our Narrative Placemaking, enabling our clients to pre-empt appropriate market positioning, rather than playing catch-up.
The Oval Partnership's analysts then assess the results and are able to pinpoint where improvements to the development can be made and where key pedestrian access upgrades would enhance footfall. The results of this comprehensive process feed into a quantifiable proposal that developers can evaluate, in order to determine how their investment in asset enhancement will generate growth.
This bespoke evaluation of the asset and its underlying context may support, say, adaptive reuse as a fulfilment centre from conventional store-front retail, or may be the vessel for a revitalised lifestyle hub, where a more spatially-generous, experience-led, richer, augmented retail environment can thrive. More widely, our team will present the analysis to help mitigate down-side risk across an asset portfolio by leveraging and balancing Cap-ex expenditure across complimentary market sectors and alternative asset classes.
Key to founding a successful strategy, our processes tap into an AR-powered 5G-fuelled online-offline data rich environment enabling us to create engaging, social and truly interconnected network of places, that blur the boundaries of both traditional use categories and the real and the virtual.

Augmented Experiences
Virtual try-on experiences that leverage app-based augmented reality (AR) technology are a major growth area for new retail: Consumers can preview wearables life-size, on themselves, in their homes, and then buy the corresponding physical product on the spot. The automation of logistics is reducing cost of sending and returning goods. The in-store retail experience must match and exceed these tailored, simulated sessions, meeting rising customer expectations with Instagrammable settings conducive for sharing and say, tailored in- person advice on hand.
Appealing to the digital-native generation, leading brands are building out their AR retail strategies with online co-watching video streaming mobile apps such as Squad, with which friends can shop together, chat and interact. This is one of a number of digital tools looking to generate some of the social experiences people have been craving and sorely miss amid the pandemic.
Another rapidly emerging crossover area in digital shopping and augmented retail is to offer virtual goods as commodities. Stemming from the freemium revenue model, virtual objects can be bought in addition to physical items. With or without a physical counterpart, buying virtual apparel, jewellery, or art you can slip the constraints of finite consumer choice to uniquely express yourself. Further, the incorporation of LiDAR in the latest iPhone we fully expect to usher in a burgeoning space served by a new generation of sophisticated AR apps.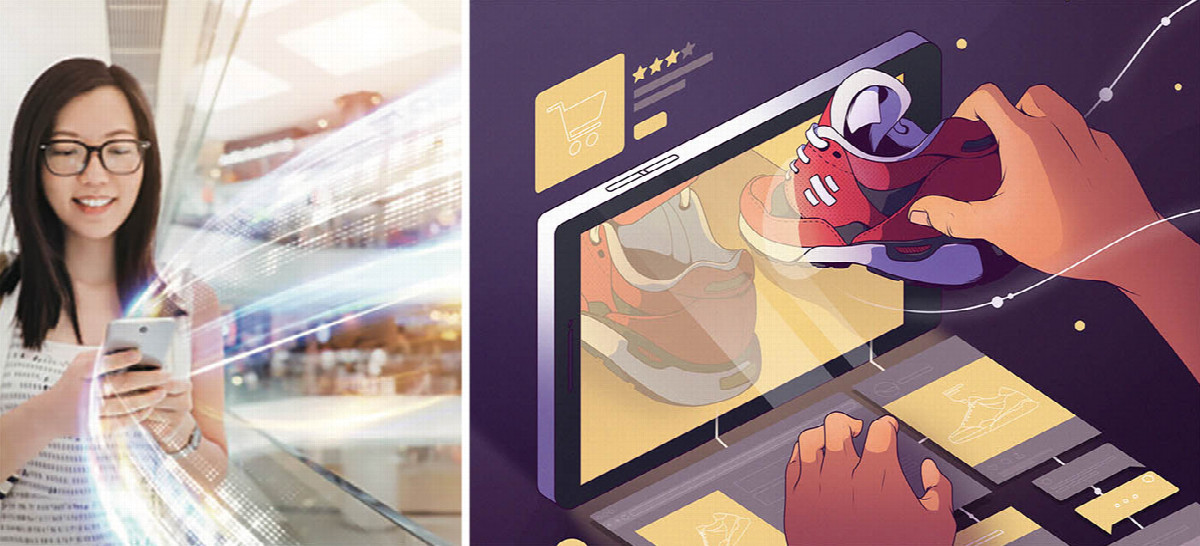 Attractive for leading retailers and consumers alike, we look to create synergies by weaving virtual goods into narratives of place. Co-streaming for examples goes from 'sticky' to compelling when interwoven with surprise appearances of virtual artefacts or characters from other media 'dropping in' to the stream. Consumer social app Gowalla is coming back. Building on its ultimate vision by leaning on augmented reality tech to come back next year as a gamified social app.
By seeding trans-media narratives that offer shared and shareable interactive experiences, we curate a setting for emergent forms of playful urban interaction that is in such demand. These harness grass-roots urban participatory practice to generate ideas and engender stakeholder ownership. We harness this phenomenon, curating events translating this energy into the public realm, bringing people together to activate key spaces. Vitally, they sustain stories of people and place across differing media to make them memorable.
Long-term Placekeeping
Sustaining the success of these enhanced assets over their lifespan requires continued refinement and adaptation. With consumer behaviour continuously evolving, especially given the current global challenges, Digital Placemaking technologies offer continuing added-value. Our analysts and the architectural teams work alongside developers, tenant teams and retailers to make the necessary tweaks and adjustments to ensure an asset, such as a lifestyle hub remains at the forefront of future consumer trends.