Disclaimer: This photo is a conceptual image that has been edited, and it is important to note that the dogs depicted may require a trolley for transportation purposes.
China is witnessing a growing mania of 'furry babies family' when Chinese millennials decided to break away from traditional family expectations and opt to keep pets instead of adhering to traditional Chinese values. It is no surprise that when you unfold a black mesh sunshade of a stroller in China that a puppy would be peering out of its dog house on the wheel. As of 2022, the number of pet dogs and cats had surged by 33% since 2017, reaching a whopping 116 million.
The unabated growth in pet ownership has inexorably fuelled new demands for pet-friendly communities and products in China. During the Single' Day in November 2022 — an annual shopping extravaganza event, pet-related goods emerged as the top-selling category on China's infamous online store, Tmall Global, exceeding sales of over RMB 1.9 billion. According to the China Feed Industry Association, the national pet food production in 2022 exceeded 1.23 million tonnes, almost 10% of increase compared to 2021. The growing momentum is expected to persist and even gain more in coming years, highlighting the thriving potential of the pet industry in China.
As China experiences a significant culture shift, it has not only led to a market change in the pet sector but transformed the landscape of urban planners as well. Developers have begun to reach the epiphany of curating inclusive communities and vibrant open spaces to accommodate the new chic lifestyle of the millennials and their furry companions. The elements of open space, pet-friendliness and community formation were brought to light to forge an engaging and pleasing public space through incorporating the innovative and sustainable strategy of placemaking.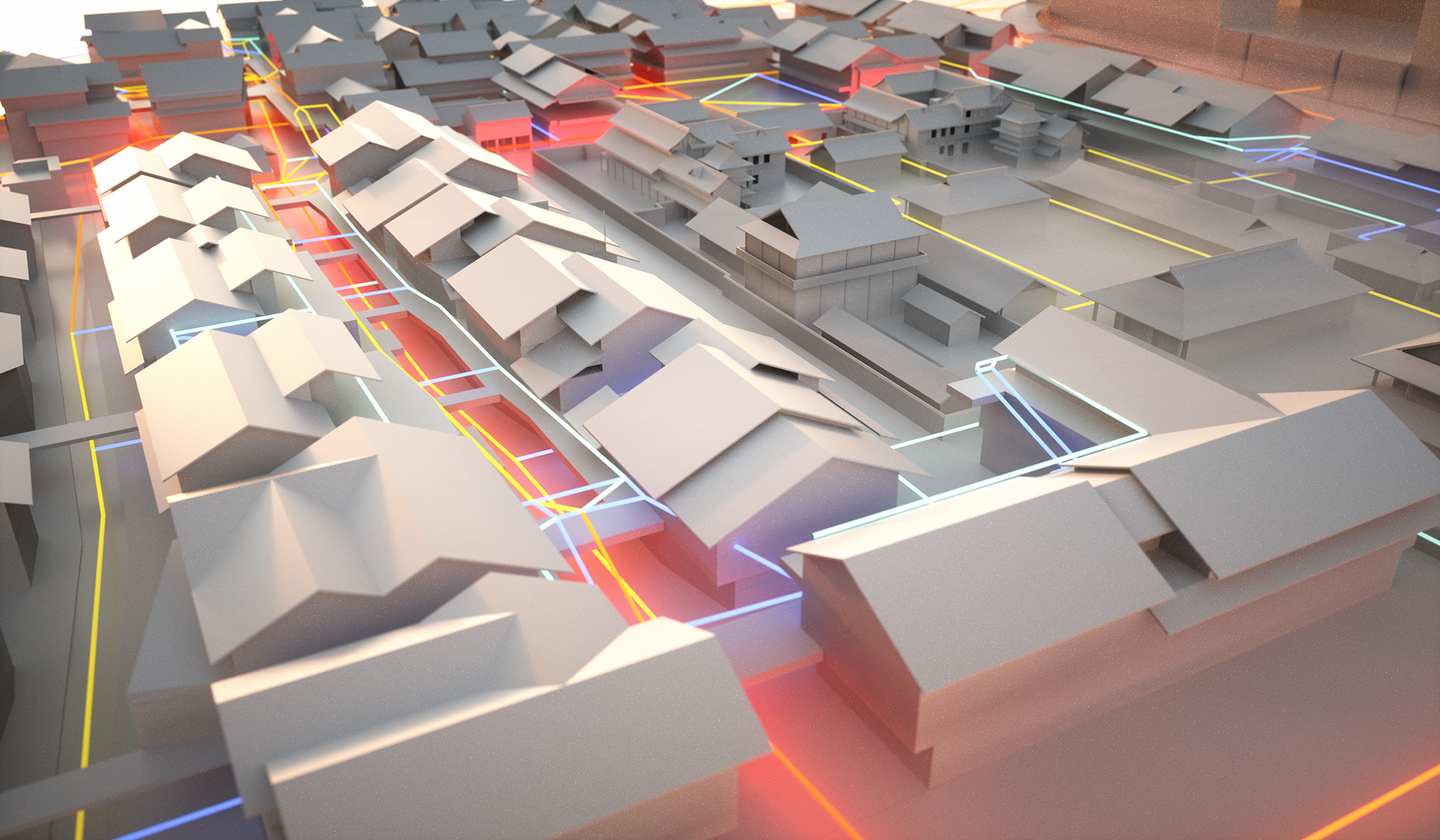 Placemaking is the process of designing and developing public spaces that promote connectivity, community and engagement. The concept goes hand-in-hand with open space whilst architects create inviting environments to bring people together by considering their needs and desires in order to foster a sense of community. With deliberate and tailored planning, architects can transform shopping centres into a public space for people to shop, dine, relax, spend time and connect with others.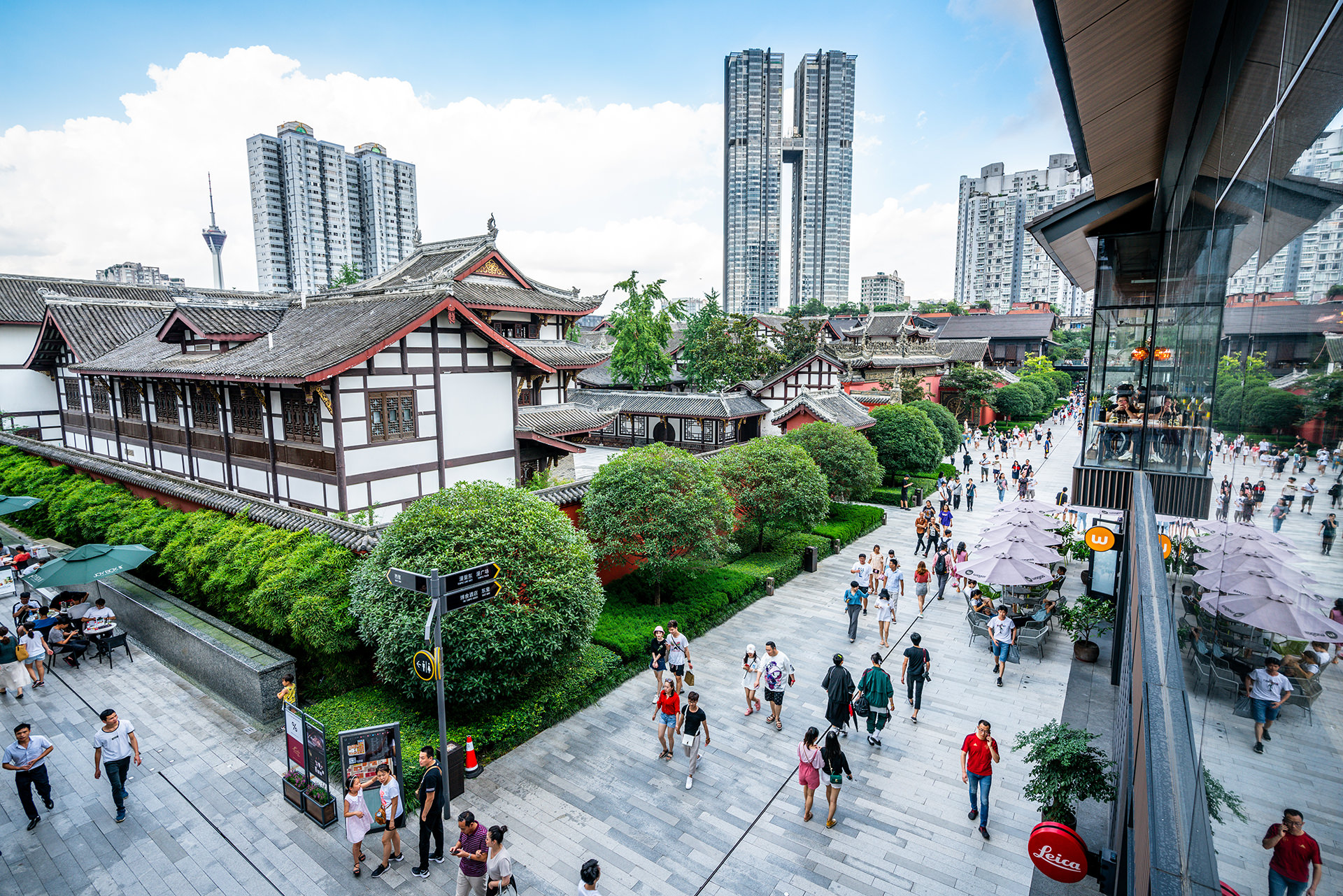 Situated at the heart of Chengdu China, Sino-Ocean Taikoo Li Chengdu is a mixed development project which integrates leisure, culture, retail and heritage. This vibrant neighbourhood and community is the nexus of where Chinese heritage intertwines with a modern touch.
Oval Partnership envisaged an "open city concept" aiming to encompass the city-centre mall into a well-networked, open public space that not only preserves a thousand-year-old Daci temple but also accommodates a diverse array of over 110 international and local brands in the complex.
Taikoo Li Chengdu has swiftly become one of the most popular to-go destinations. Hence, its pet-friendly policy also captured the hearts of many pet owners and their furry babies. According to China's news media outlet CGTN, there has been an increasing number of shops, restaurants and shopping malls labelling themselves as pet friendly to cater the needs of the country's growing pet market. Whilst Chengdu is considered as one of the most pet-friendly cities in China by netizens, Taikoo LI Chengdu is rated as the top 3 pet owners' favourite malls in Chengdu.

"I brought my furry baby to Taikoo Li for a few days and it was an amazing experience. I was able to stay in a pet-friendly hotel and roam in malls with my dog. Chengdu is certainly the most pet-friendly city in China!"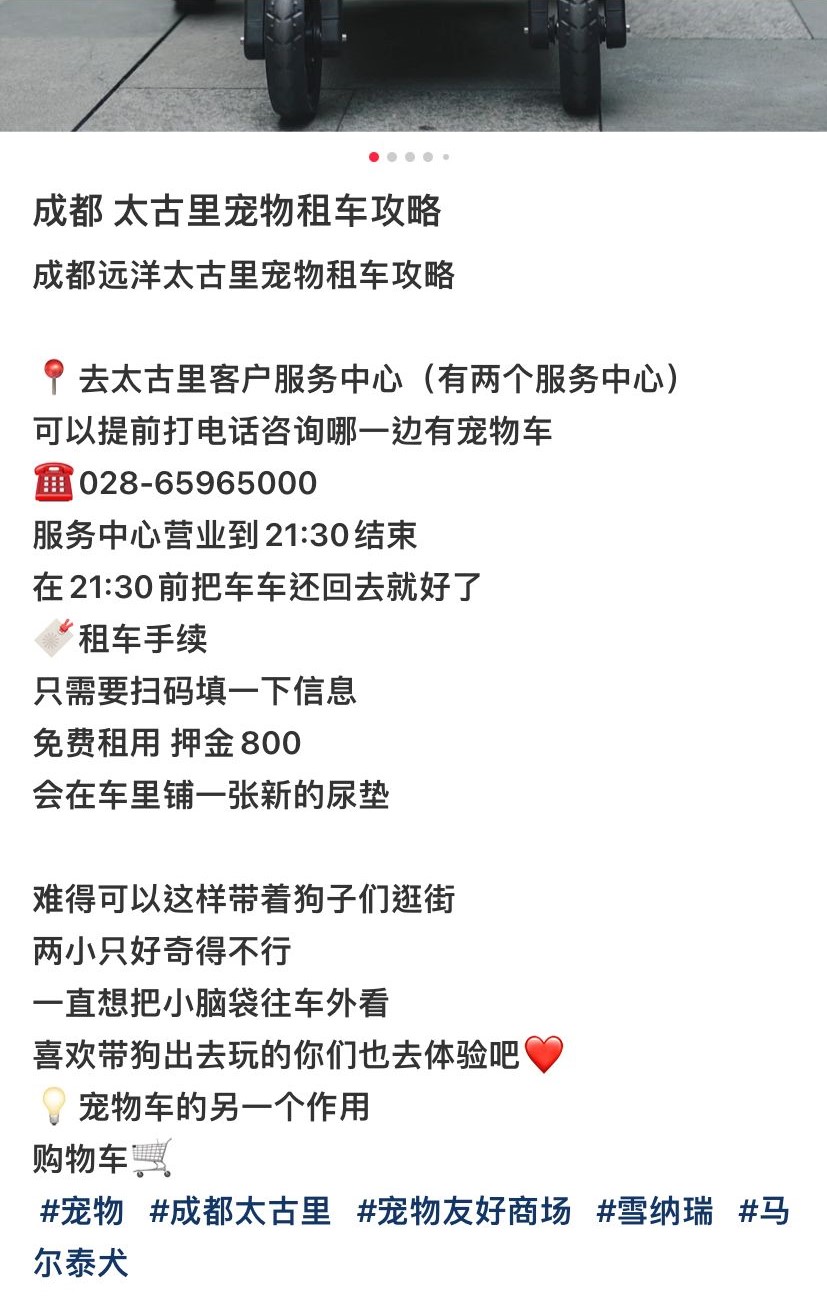 "I simply had to scan a code to rent a stroller for my dog. It was a wonderful chance to be able to take my dogs with me when shopping in malls. My two dogs were very curious and were looking around all the time. I definitely recommend pet-owners to take your furry babies to go to Taikoo Li for the wonderful experience"
As pet owners promenade the lanes and squares of Taikoo Li, the seamless integration between indoor and outdoor areas was set out to ensure owners and pets can move freely and comfortably. Meanwhile, Taikoo Li also incorporated pet-friendly amenities and features throughout the complex such as water fountains and designated play areas with seating areas to allow owners to relax and enjoy their time with their furry babies. The mall also provides rent-free strollers for owners to browse around shopping streets with their pets in pet-friendly stores and restaurants. The pet-friendly policy of Taikoo Li Chengdu has attracted a large number of pet owners, who appreciate the convenience and inclusivity of the mall.
Above all, Taikoo Li Chengdu is more than just a mere retail space but a hub for community connections. Its unique open space concept brings together people from all walks of life, including our cherished furry companions as well, to foster a sense of community. The craze of pet-friendly and community-oriented public spaces are poised to continue in the future. It is imperative for urban planning to embrace social connectivity as a key consideration and adopt people-centric approaches to design inclusive yet open urban spaces to reflect the diversity and richness of our societies.
Delving deeper into this thriving sector or seeking data-driven insights, market opportunities, or tailored solutions, our well-equipped team is here to assist you. Feel free to reach out to us to learn more and explore the vast potential.