Nature inhabits the very heart of all that embodies 1Hotels. Its story began with a simple yet ambitious mission — to create the most unique, sustainable and inspiring experience that redefines what a hotel in the 21st century should be. However, the vivid beauty of nature is not simply there to enhance the ambience for guests but also to promote the principles of sustainable travel and encourage interaction with the surrounding locale. In essence, the design of 1 Hotel Haitang Bay fundamentally revolves around our Mother Nature, from the inside out.
Operated by Starwood Capital Group, 1Hotels is a luxury lifestyle hotel brand whose ethos is founded on innovative eco-conscious design and sustainable architecture. 1 Hotel Haitang Bay on Hainan Island is the Group's first property in Asia. Its captivating design takes cues from local geographical characteristics as well as the cultural and scenic backdrop of Hainan, while committing to the principles of sustainable travel that the hotel brand is renowned the world over for.
Perched 22 metres above sea level, the hotel's breath-taking views of the bay are enhanced by generous natural lighting and strategic cross ventilation to take advantage of the sea breezes. The hotel's intelligent single loaded structure ensures that all the rooms are equally light-filled and airy, while also affording a stunning ocean outlook. Nature positively seeps into the hotel's architecture, which is planned around a series of lush landscaped gardens (Hundreds of Gardens) situated to the east. The rooftop space is cleverly treated as the fifth facade, being put to innovative use through the integration of a rooftop sky farm and three individual villas featuring lush sky gardens.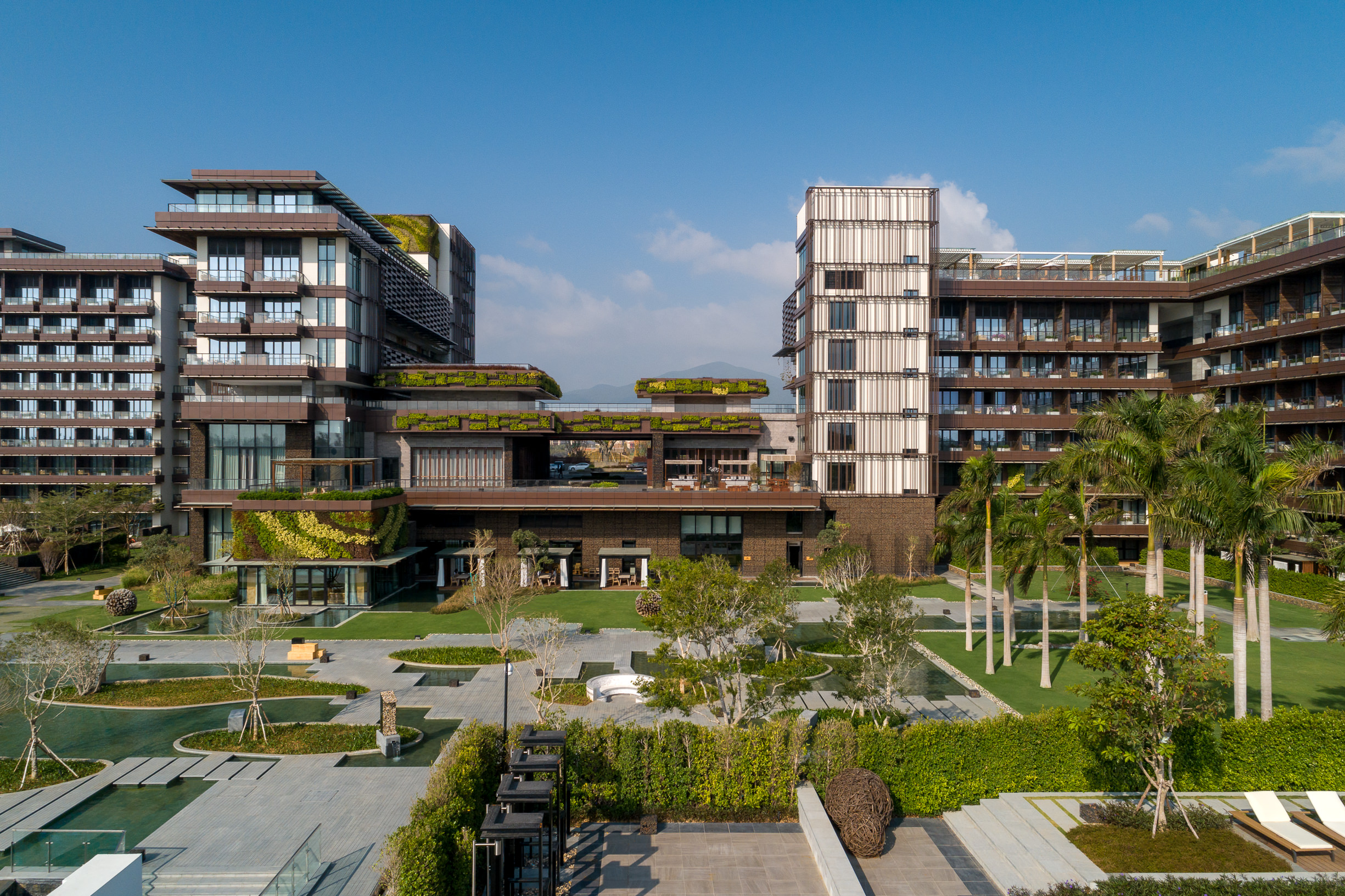 Local vernacular architecture and passive environmental design guided the overall approach and aesthetics of the development. This is emphasised by a series of external shading devices and green landscaping, presenting a spatial experience that is both rich in texture and mesmerising in detail, heightened by the interplay of light and shadow. Elevations are not bereft of planting either — 'green' walls extensively planted with local vegetation complement the staggered roof terraces and semi-open courtyards to amplify the integrated quality of the architecture with its natural surroundings. Warm timbers and weather resistant metals form a harmonious composition alongside locally sourced lava stones, celebrating the beauty of humble, natural materials.
Sustainability is not simply a slogan at 1 Hotel Haitang Bay, but embedded in the lifestyle, practices and culture of the brand, as well as the performance of its buildings. Green technologies are designed to reduce the environmental impact of the development and the hotel incorporates a number of sustainable technology strategies to achieve this, such as rainwater recycling, grey water reuse, solar thermal hot water, an energy efficient E&M system, and an organic farm, among others. The result is a relaxed, comfortable, natural, ecological, open, serene and modern environment that champions the DNA of the 1Hotels brand.